Meet Coach Kristen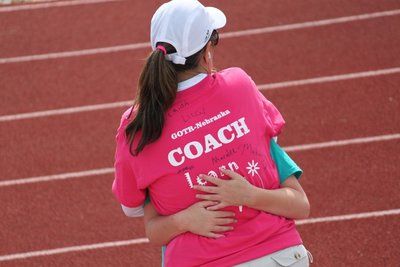 Teams: Kloefkorn, Pyrtle, Belmont in Lincoln
Occupation: Pediatric Occupational Therapist
Seasons Coached: 5+
When Kristen Pfeil of Lincoln answered the call for volunteer GOTR coaches back five years ago, she had had no idea how much the program would affect HER life. 
"GOTR is an amazing group," she said. "It is a time commitment, but it is worth every minute.  You will get what you give times 100!" 
Now hooked on the GOTR experience, Pfeil returns to coach each year at Lincoln's Kloefkorn Elementary. She loves watching the girls support each other and accomplish things they never thought possible.  
"I have remained involved because GOTR is an amazing program that I want to pass on to my daughters," she said. "Coaches play a powerful role.  Never underestimate how you can impact a life, just by validating someone's worth." 
The 5K is a unique part of GOTR and it happens to also be one of Pfeil's favorite memories. "Standing at the finish line watching my team members cross the finish line at the practice 5K and statewide 5K -- those smiles could light up an entire room." 
And she loves bumping into GOTR girls from years past. "I am consistently greeted with hugs and high fives from girls that have run on past GOTR teams." 
She is thankful for the opportunity to coach because not only does she get to teach the girls, the girls end up teaching her too. "The girls have taught me kindness and compassion. I hope I have taught the girls true beauty comes from the inside, we are all different, there is no need to try and be like someone else, enjoy who you are and appreciate others' differences." 
These lessons have been shaping for Pfeil who feels "richly blessed to be a part of this group.  Thanks, GOTR, for providing this opportunity to so many girls, and helping to change lives."