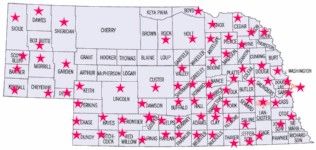 Program Service Area
Girls on the Run of Nebraska serves most counties in the state, and is authorized by Girls on the Run International to deliver programming in the following counties: 
Adams, Antelope, Banner, Boone, Box Butte, Boyd, Buffalo, Butler, Cass, Cedar, Chase, Cheyenne, Clay, Colfax, Custer, Dakota, Dawes, Dawson, Deuel, Dixon, Dodge, Douglas, Dundy, Fillmore, Franklin, Frontier, Furnas, Gage, Garden, Gosper, Hall, Hamilton, Harlan, Hayes, Hitchcock, Holt, Howard, Jefferson, Johnson, Kearney, Keith, Kimball, Knox, Lancaster, Lincoln, Madison, Merrick, Morrill, Nance, Perkins, Phelps, Pierce, Platte, Polk, Red Willow, Rock, Saline, Sarpy, Saunders, Scotts Bluff, Seward, Sheridan, Sherman, Sioux, Thayer, Valley, Washington, Wayne, Webster and York Counties in Nebraska; Pottawattamie County in Iowa.
Find a team near you at one of this year's program sites.
Want to add your county to the list of areas we serve? Reach out via the Contact Form.